Department of Intensive Care Medicine
Our Pediatric Intensive Care Unit (PICU) mainly treats children of a wide range of ages, from newborns to junior high school students, but sometimes it also treats adult patients and pregnant women. In the past, there was a shortage of PICUs in Japan, and severe children were treated in a corner of the adult intensive care unit, or in a general ward. However, because diseases and conditions differ between children and adults, and medical devices of various sizes are required, it is desirable to treat children in a dedicated PICU.
Under such circumstances, our PICU aims to provide specialized medical care 24 hours a day, 365 days a year for any critically ill child, regardless of whether the child is medically sick or injured. Actually, our PICU provides treatment and nursing care every day for children who have undergone major operations such as cardiac surgery, children with severe pneumonia or convulsions who are transported urgently from major hospitals in Osaka, Hyogo, Nara, Wakayama, Kyoto, Shiga and other regions, and children who are transported urgently for the most serious and urgent cardiopulmonary arrest. Based on these achievements, our center was designated as a base facility for the "Network for Critically Ill Pediatric Patients" by the Osaka Prefectural Government, and began operating as a pediatric emergency center in 2018.
Of course, it is essential that not only the intensivists but also each specialized department, knowledgeable and experienced nurses, clinical engineers, laboratory technicians, and pharmacists work together as professionals to provide such medical care. As of 2021, our PICU has 18 beds, including back-up beds. Our staffs consist of 15 PICU physicians, including 10 intensivists certified by the Japanese Society of
Intensive Care Medicine, specialists and residents from various departments, and approximately 60 PICU nurses. The number of patients admitted per year is about 800, which is one of the highest in Japan. Our mission is to train medical specialists, provide pediatric intensive care training in the community, practice evidence-based medicine with a global perspective, and disseminate information for better medical care through clinical research.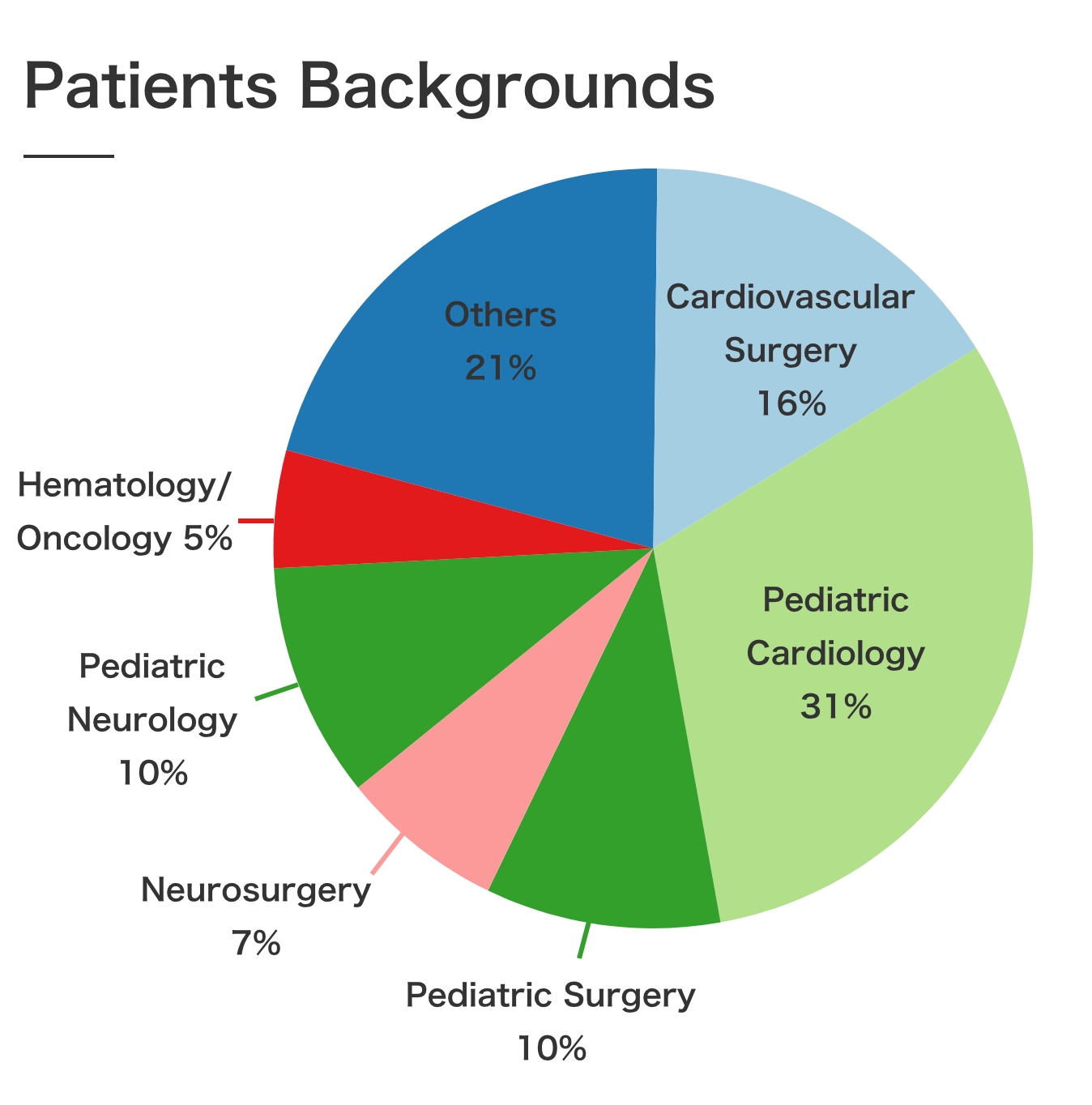 | | |
| --- | --- |
| Beds | ICU 10 + HCU 8 |
| PICU Staff Physicians | 15 |
| Nurses | 60 |
| Patients (2020) | 804 |
| Emergency admission | 309 (38%) |
| Patients on ventilator | 451 (56%) |
| Mortality | 1.1% |
As the "last bastion" of pediatric medicine, we accept critically ill children with all kinds of diseases and from all regions 24 hours a day, 365 days a year, and we believe it is our mission to help them recover as soon as possible without any aftereffects. On the other hand, it is also true that there are cases among who the best medical care does not lead to a good outcome. Even in such cases, we need to be able to provide medical care with "heart" until the end. We will continue to make every efforts to be a facility that is needed in the community and we would be grateful for your continued warm support.
Chief director

Muneyuki Takeuchi

Assistant director

Yoshiyuki Shimizu

Takeshi Hatachi

Yu Inata

Chief physician

Kazue Moon

Atsushi Kawamura

Kanako Isaka

Toshiki Sofue

Masashi Taniguchi

Senior staff

Takaaki Akamatsu

Yukie Ito

Miyako Kyogoku

Jumpei Okumura

Kohei Yamada

Kanako Morita